(Last updated: 12 September 2023)
(Proof of Work)
Gojek (~5 years)
June 2023 - Now
Head of Product, Ride hailing products & GoSend. They just gave me a fancier title. I have been doing the same thing for 2 years now.

Return trip nudges.
Payment method specific vouchers.
Gosend 4W in Indonesia.
GoCar Economy in Vietnam.
Insurance penetration experiments in GoSend.
Time based pricing.
GoCar Comfort in Indonesia.
MTU growth experiments.
Services growth experiments.
Flat fare in GoSend.
Better Search: PPOI integration in GoSend.

July 2021 - May 2023
Group Product Manager, Ride hailing products & GoSend, Transport.
Product head for ride hailing products in Indonesia, Singapore, and Vietnam. Also responsible for GoSend (think of it as Dunzo) in Indonesia and Vietnam.

Shortcuts in Vietnam.
Premium insurance in Indonesia, Singapore and Vietnam.
Late pickup vouchers in Indonesia, Singapore, and Vietnam.
Gopay coins inside Transport.
GoCar Kids and GoCar XL in Singapore.
Voucher round off logic improvements.
Tiered booking fee.
GoCar Luxe in Indonesia.
GoCar Premium in Singapore.
GoCar Hemat in Indonesia.
GoRide Hemat in Indonesia.
Project Narnia: Redesign of GoSend.
Saved addresses improvement in GoSend.
Reduction of defect rate in Transport products.
Cashless tipping.
Tipping feature in Singapore and Vietnam.
Voucher calculation optimisations.
Waiting fee in Singapore.
Express++: A massive undertaking to cut launch time of new services from 6 months to less than 2 weeks.

October 2021 - June 2022
Group Product Manager, Growth and Key Initiatives (GKI), Transport.
Run these streams inside Transport: Core Growth, GoCorp (B2B product), Instant(on spot bookings), Service Excellence, and Engineering Excellence. What we have shipped in this period:

GoCar XL in Vietnam.
Ride pass product launched in Indonesia to improve incremental transactions and boost customer loyalty.
Electric Vehicles trial. press
GoCar Premium, an on-demand service for luxury vehicles in Singapore. press
GoCar XL in Singapore. press
Took GoCorp international; launched in Singapore.
Protect+, a new hygiene focused service for both 4W and 2W in Indonesia. press
Introduced cars at scale in Vietnam: launched Protect+ service in Vietnam. press
Ride pass product for Singapore.
Launched GoPay Coins.

July 2020 - Septmber 2021
Manager, Growth and Key Initiatives (GKI), Transport. Managed a team of 3 PMs.

Owned Service Excellence: all safety related features in Transport, is in charge of improving service quality of our Transport products, the Tipping experience and Comms with customers (Call Masking, Customer Support).
Led the launch of our Taxi product in Singapore. press
Launched our 4W product GoCar in Vietnam. press
Ran GoCorp (Gojek's business product for Transport). press
Shipped a premium schedule a ride feature.
Owned the loyalty levers for Transport: Subscription, Bundles, GoClub, Vouchers, Missions.
Redesigned the voucher application experience.
Owned the Experiments roadmap for Transport and in charge of improving the capabilities of our experimentation platform.
Owned the resurrection charter: getting back users lost during Covid.
Launched GoClub (Gojek's loyalty product) in Transport.
Launched v1 of Ads on Transport.
Ran Gojek's Instant product for Transport (on the spot booking at airports and other popular areas). press

July 2019 - June 2020
Product Lead for Booking Experience and Flexibility. Led 2 PMs.

Redesigned the entire booking experience for Transport in 2019.
Worked on Project Athena for Transport: Getting Vietnam and Thailand Transport users inside the Gojek super app. press
Built the multi stop feature and v2 of edit destination. press
Shipped pre booking ETA.
Redesigned the Finding Driver experience.
Implemented Odd Even rule for Transport services in Jakarta.

November 2018 - June 2019
First PM for Safety, Payments and On Trip Experience in Transport. Joined as an IC when the Transport product group was just 2 people.

Shipped the following features within 2 months of joining Gojek's Transport team: Share Trip, SOS, Safety handbook. press
Created the Call Masking feature that was later adopted by all product groups inside Gojek. press
Shipped outstanding balance feature which helped us reduce fraud and earn back lost revenue.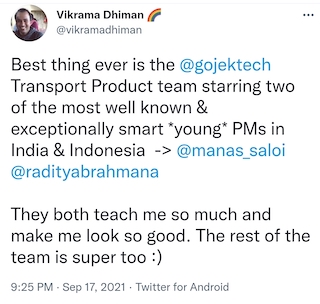 (Manager's recommendation on Twitter)
Directi (~2 years)
Dec 2016 - Nov 2018
Flock is a leading enterprise collaboration platform owned by Directi. I was the PM looking at long term retention for our users. press

Product owner of the Flock App Store, which has 50+ apps and third party integrations.
Led experience of 6 core apps built on Flock's platform: Mailcast, Notes, Polls, Reactions, Reminders, Favourite.
Built 5 third party integrations for Flock App Store: Github, Gitlab, Facebook Pages, Freshdesk, Opsgenie.
Created Flock Support, a lightweight Helpdesk inside Flock Messenger, which on-boards users and lets them chat with Customer Support.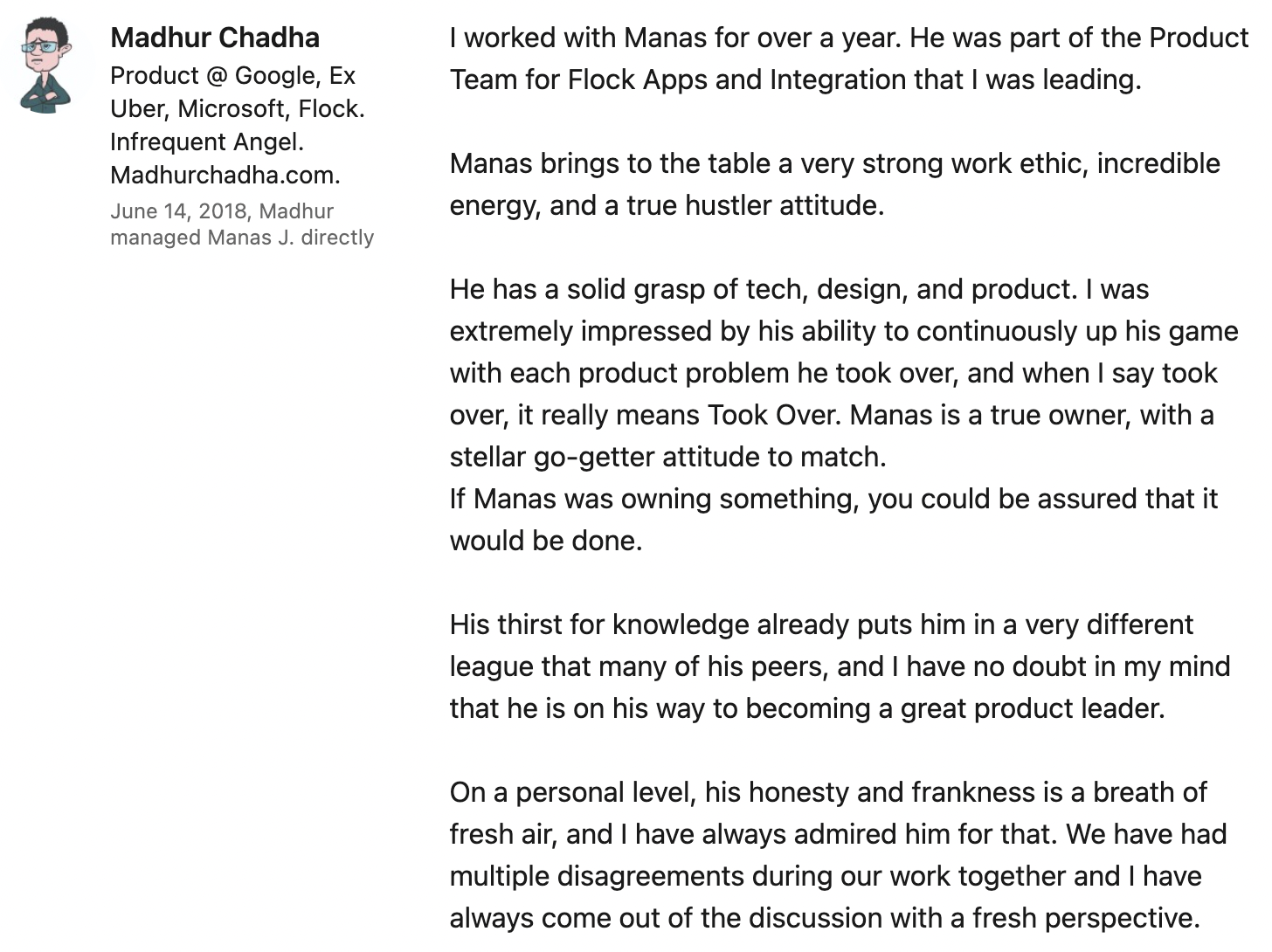 (Hiring Manager's recommendation on Linkedin)
Craftsvilla (~1 year)
Jan 2016 - Sep 2016
I was the Product Owner of both Android and iOS mobile apps. I rebuilt the Android app from scratch. press

100% Growth in number of users visiting Product Detail Page.
20% Jump in monthly retention of the users.
6X Jump in the number of users logged-in.
Avg. application ratings run-rate of 4.08 post application launch.
Conceptualised and released the first version of iOS app.

Also led mobile growth across all digital channels.

Scaled installs of the Android app from 1 to 4 million users in less than a year.
Increased active user base by 200%.
Doubled share of mobile app transactions from 25% to 50% of total transactions.

(Hiring Manager's recommendation on Linkedin)
CouponDunia (~1 year)
Dec 2014 - Dec 2015
CouponDunia is India's largest digital coupon marketplace. It was acquired by Times Internet in 2014.
Product & Business Owner for CashBoss, a new business unit within CouponDunia. press

Shipped the v1 of CashBoss Android App in 4 months and scaled it to 1 million installs.
The app has a rating of 4.3 and is one of the top apps in its category.
The business unit has been profitable since launch.

Product Owner of the CouponDunia Web Team (Desktop).

Took additional responsibility of the CouponDunia website which received close to 100k DAU.

Led growth for all of CouponDunia products.

Ran multiple experiments to improve funnel conversion across the website.
Worked with the SEO, Digital Marketing teams to deliver growth goals.

(Hiring Manager's recommendation in the form of a mail sent to the company)
Kore (~1.5 years)
Aug 2013 - Nov 2014
Kore pivoted and became Kore.ai, a bot platform in 2016. Before that, Kore was a messaging platform for enterprises. press

Joined its Android team and worked on the Video and Camera features of the Kore application.
Contributed to the location based message delivery feature of the app. It was a differentiator from other enterprise collaboration applications in the market.
Worked on the Reporting service, which is now used by all teams of Kore for data analysis.
Created the Push notification system for Kore, which handles all notifications going to users.

Kore spun out from Kony Labs where it was incubated. Kony is the leading multi-channel application development platform provider with over 350 customers in 45 countries.

As a member of the Vertical Apps Team, I built mobile applications on Kony's proprietary platform Kony Studio using JavaScript.